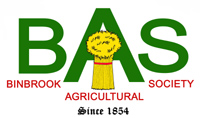 Cancelled for 2020
Greetings BAS Members, Friends, and the Greater Binbrook Community.
It is with sadness and regret, that we must write today and let you know that the 2020 Binbrook Fall Fair, has been cancelled.
The Board met this week and passed this difficult motion, perhaps our toughest since 1854.
We didn't make this decision lightly, or quickly, but it was in the end without objection.
We engaged as many of our stakeholders as possible, including;
all 3 levels of our elected government the City of Hamilton Covid-19 team vendors, merchants, and key entertainment players for the fair the community and most importantly, our very dedicated and diverse team of volunteers – who put everything together each year, and make it happen
For the sake of our team, for the sake of the community, and care for all, this sadly must be the reality for 2020.
Once decided however, we immediately began on discussions of positive alternative actions, because;.
"When life hands you lemons, you make lemonade.
And if a hurricane wipes out your lemon orchard and half the barn, you get a lot of friends together, and pickup some more cups!" 😉
We have formed a working group, to find us the best ways to uniquely and meaningfully, share the heritage and success of agriculture and the fair, in our community.
A lot of hard work goes into people's efforts & entries for the Fair each year, and we want to make sure that is recognized.
We are looking at the potential for live agricultural tours, and related Ag Education, for families and youth.
And we are also trying to see, if the realities of this fall's lack of activity, present us with any unique opportunities in our history, for a renewed investment in our community, in alignment with our published constitutional mandate.
Plus; we are still hopeful that elements of our work, such as the Farmer's Market, might also be able to make a return in the fall. Even if just for a short "Harvest Market" run, as that would be awesome.
As always, we welcome your ideas and support. Please share.
This is a community organization, and as a not-for-profit that has been here since 1854, we're with you, and we're here for the long run.
Be well, and keep an eye on our website, signs, newspaper, and social media for updates!
Your Binbrook Agricultural Society
September 18 to September 20, Friday opens at 5pm
Premises ID: ON4212041
Civic Address: 2600 Hamilton Regional Rd 56, Binbrook, ON L0R 1C0, Canada
GPS: 43.12285 -79.80392
Phone: 905-692-4003, Fax: 905-692-1434
Email: This email address is being protected from spambots. You need JavaScript enabled to view it.
Website: http://binbrookfair.org/
Facebook: https://www.facebook.com/binbrookfair/
3 days of family and fun. Smash up derby on Friday and Saturday evening, Rodeo on Sunday afternoon, rides, exhibits and vendors.
Office Administrator, Fair Secretary
PO Box 244, Binbrook, ON, L0R 1C0
This email address is being protected from spambots. You need JavaScript enabled to view it. 905-692-4003